Introducing A Better Fishing Map
Every avid angler I know desires a better map. But if you're like many weekend-warriors who got caught up in the hype of live-mapping thinking that you would be able to quickly create a high quality map of your home lake simply by going out fishing, and now realize it is not so easy….keep reading. If you suspected that user-mapping an entire lake would require significant time/gas (and likely props/skegs) to do properly, but now realize that additional software ($$$) and considerable initiative (time and ability) is going to be needed to merge all your live-mapping logs into a final high-quality hydrographic map…..keep reading. If you fish so many lakes and rivers that user-mapping is just not the ideal solution for your depth and contour maps….keep reading.

Angler's Edge Mapping (AEM) is a small business based out of Winnipeg, Manitoba. Our business plan is simple: Provide the highest quality maps available for local lakes and rivers in both digital and print formats. AEM maps are designed with anglers and cottagers in mind. Quality over quantity, you get what you pay for.  Sounds cliché….but we mean it. We go out and conduct the time-consuming, gas-guzzling and prop-busting surveys required for quality depth maps of Canadian Shield lakes and rivers, and then undertake extensive post-processing using professional-grade GIS software to take things to the next level.  Finally, we use an intuitive colour palette in combination with major and minor contour lines to provide detailed, accurate and user-friendly contour maps that anglers can use to dramatically increase their efficiency on the water.
Digital compatibility
AEM is thrilled to offer digital fishing maps compatible with modern Lowrance, Simrad, and B&G sonars (Navico). We do not see much of the latter two brands in Canada, but the following Lowrance models are compatible:  HDS Gen1, Gen2, Gen2Touch, Gen3, Carbon, Elite, Hook and Elite-Ti (everything but "X" model variants, which lack GPS/mapping capability). AEM maps are not compatible with Humminbird or Garmin sonars. This is unlikely to change in the near future.  Essentially, Navico provides the software and hardware tools required for small companies like Anglers Edge Mapping to produce maps compatible with their units, while Humminbird and Garmin do not. So if you want to reap the benefits of running AEM digital maps, you need a modern Lowrance, Simrad or B&G sonar.
Above are 4 sample screenshots of our Falcon Lake digital map as seen on a Lowrance Elite 7 Ti at various zoom levels. To reduce screen clutter, minor contour labels (a new addition to AEM maps for 2017) are only revealed at high-zoom. (Click on the individual images to view at higher resolution)
AEM Digital catalog options
If you fish all over Manitoba and Northwest Ontario, the AEM 2017 Complete Catalog offers spot-on-the-spot quality hydrographic mapping for many entire lakes and large sections of others, for a fraction of what it would cost you in gas alone to user-map these (never mind props/skegs/lower-ends and what your time is worth). If you only fish the Whiteshell, Winnipeg River, Nopiming, or Northwest Ontario, and don't want to pay for content you will not use, area-specific chips are also available. Our catalog has grown significantly over the past few years, and we also offer existing customers the option to upgrade their digital map chips for reasonable prices when we add more content. For example: If you purchased Whiteshell 2016 from Anglers Edge Mapping, you can upgrade to Whiteshell 2017. Or if later you decide you want coverage of other lakes, upgrading from an area-specific chip to our Complete Catalog 2017 is also an option.  Angler's Edge Mapping digital chips are available at Pro-Am Tackle ( 1094 Nairn Ave., Winnipeg), The Fishin' Hole (1522 Regent Ave, Winnipeg), Faloma Beach Marina (Falcon Lake), and from our website. Very soon, individual maps should once again be available for digital download from the Go-Free Shop, which is likely the most cost-efficient digital option for cottagers that never leave their home lake.
Large AEM Print Maps
AEM also produces large-format print maps, designed as functional wall-art for the cottage. The same detail and accuracy that characterizes our AEM digital maps is overlaid on aerial imagery to provide a spectacular contrast. AEM print maps really need to be seen to be appreciated. So check out Faloma Beach Marina (Falcon Lake) or Monart St. Vital (957 St. Mary's).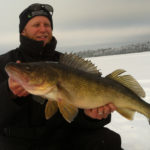 About The Author: Craig McDougall is a fisheries biologist, tech-savvy angler, and President of Angler's Edge Mapping.